Monatsarchive:
August 2013
QUELLE: raspbmc.com
Raspbmc's August update is mainly fix oriented and fixes some issues rather than introducing new features specifically. Some good new features are planned for September, but for now, here's what this month brings:
Support for Raspberry Pi's with Micron memory to installer
Re-added support for Dual Audio (simultaneous analog and HDMI output)
Fixed some issues where some settings were not applied properly:

GPU and CPU temperature display
Cache buffer size (would have caused streaming issues)
Number of background worker threads (could have caused crashes)
Resolution of fanart (could have caused OOM on the VideoCore)

Thanks to popcornmix for his usual contributions:

Fix for visualisations in XBMC
Fix for adjusting video settings during playback
Fix for seeking issues with DVD and online content
Fix for issues with OGG playback
Fix for the buffering regression when playing files with (unused) TrueHD audio (may help other files)

Properly fix issue with SSIDs that have spaces in their name
Reduce installation and update time by making kernel header installation optional via Raspbmc Settings
Fix a kernel updating bug with NOOBS installations
If MD5 hash fails on kernel update, then Raspbmc will try and update the kernel again on the next boot
Updated standalone image to August release to save update time and ensure absolute package freshness
To get the update, simply reboot your Raspberry Pi. Note that if you have disabled updates via Raspbmc Settings, you'll need to enable them first, and if you're running a nightly build, you'll need to switch to 'xbmc release' in Raspbmc Settings to get back to the stable builds we ship as default.
Und wieder eine Alternative zum HTPC auf Android-Basis mit einigen netten Features zu einem Preis ab ca. 139,00 Euro!
Mehr Infos: Klick mich
Für mich nur interessant, wenn XBMC mit Datenbank-Zugriff und detailreichem Theme flüssig läuft.
Im WEB hab ich schon mal ein Video mit einer XBMC 13 Beta-Version gesehen, schaut ganz gut aus 😉
Technische Details & Pic´s (Quelle: archos.com)
Speicherkapazität

• 8 GB* Flash




• Einfach erweiterbar per microSDHC Slot für Karten bis 32 GB

Betriebssystem
• ANDROID™ 4.1 "Jelly Bean"

Prozessor

• 1.5 GHz Smart Multi-core

RAM Speicher
• 1 GB

Schnittstellen

• HD Kamera




• Micro USB Port




• USB Port




• Mini HDMI Ausgang




• Ethernet




• microSD Steckplatz

Funkschnittstellen
• WiFi

Extras

• LED Benachrichtigung




• Mikrofon




• Front-Kamera

Abmessungen
• 235 x 105 x 34 mm

Mindest-Systemanforderungen

• Microsoft® Windows® 7, 8, Vista, XP oder höher & Windows Media Player 11

Computer-Schnittstelle
• USB 2.0

Packungsinhalt

• ARCHOS TV connect, Fernbedienung 'TV Touch remote', Netzteil, HDMI Kabel, Benutzerinformationen
Die Weltraum-Sim wird von Roberts Space Industries produziert, dahinter steckt natürlich die Legende Chris Roberts.
Das Video machte mir schon den Mund wässerig 🙂
Auf der Homepage kann man das Spiel z.B. für mind. 30 Dollar unterstützen und beim Release bekommt man es dann direkt als Download, ist eine Überlegung wert!
Star Citizen Crowdfund Pitch – 720p from Roberts Space Industries on Vimeo.
There has been a lot of discussion over at Eurobricks about the rumored Star Wars sets for 2014. These are the sets, from an apparently reliable source. All credit for the information goes to darth_tater and CM4S at Eurobricks.
75034 Death Star Troopers (Battle Pack)
75035 Kashyyyk Troopers (Battle Pack)
75036 Utapau Troopers (Battle Pack)
75037 Battle on Saleucami (Battle Pack)
73038 Jedi Interceptor (Anakin's Yellow)
75039 V-Wing Starfighter
75040 General Grievous' Wheel Bike
75041 Vulture Droid
75042 Droid Gunship
75043 AT-AP
75044 Droid Tri-Fighter
75045 Republic AV-7 Anti-Vehicle Cannon
75046 Coruscant Police Gunship
It's also rumored there will be a new line replacing the planet series. They will include a minifigure, but the vehicles will be larger (similar in size to the recent Comic-Con exclusives such as Luke's Landspeeder) and may feature flick-fire missiles. There are apparently "up to 19" sets planned for this line.
75028 Clone Turbo Tank
75029 AAT
75030 Millennium Falcon
75031 TIE Interceptor
75032 X-Wing Fighter
75033 Imperial Star Destroyer
Quelle: Brickset
Mehr gibt es hier: Fully Functioning PC.
Nach Holz und Pappe…kommen nun die bunten Klötze 🙂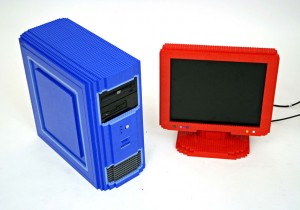 Recompute on exhibit at the l'objet du design, a photo by Recompute on Flickr.
Die einen nehmen Holz, die anderen Pappe 🙂
"Design Hara" stellt PC´s mit außergewöhnlichen Gehäusen her…
Ihr wollt schon immer ein edles HTPC-Case aus Palisander- oder Rosenholz ? Bei der genannten asiatischen Firma, werden eure Träume wahr 🙂
Quelle: DesignHara
ACHTUNG !
Der Imperator betritt das Hangar-deck…
The Imperial Inspection is a Star Wars Episode. This work includes Emperor Palpatine, Darth Vader and 2,040 stromtroopers who are the main force of the Galactic Republic.

Totally 2,904 figures are gathered for the work. This is one of the biggest work in Korea also in the world.

Quelle: flickr – Brickmaster_kor