Mini-PC
Der Kleinst-PC "Raspberry Pi" hat nun einen Konkurrenten mit mehr Power und Features bekommen.
Die neue Vitaminbombe an der Obsttheke nennt sich "Banana Pi" und wird von dem IKT-Hersteller und Distributor Allnet vertrieben.
Klick mich!

DATENBLATT:
CPU A20 ARM Cortex™-A7 Dual-Core
GPU ARM Mali400MP2Complies with OpenGL ES 2.0/1.1
Memory (SDRAM) 1GB DDR3 (shared with GPU)
Onboard Storage SD (Max. 64GB) / MMC card slot UP to 2T on 2.5 SATA disk
Onboard Network 10/100/1000 Ethernet RJ45,optional WIFI
Video Input A CSI input connector allows for the connection of a camera module
Video Outputs HDMI, CVBS , LVDS/RGB
Audio Output 3.5 mm Jack and HDMI
Power Source 5 volt via MicroUSB(DC In Only) and/or MicroUSB (OTG)
USB 2.0 Ports 2 (direct from Allwinner A20 chip)
Buttons Reset button: Next to MicroUSB connector
Power button: Next to Reset button
LED Power Key & RJ45
Remote IR (Optional)
OS Android 4.2,Firefox OS and Linux etc. OS
QUELLE: allnet.de
Eine Alternative zum RASPBERRY PI…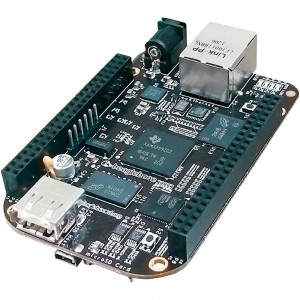 DATENBLATT:
1GHz TI Sitara™ AM335x ARM Cortex™ Prozessor
512 MB Arbeitsspeicher
10/100 Ethernet-Anschluss
Onboard Micro-HDMI Anschluss
BeagleBone Black ist ein Kreditkarten großer Andriod Open-Souce Linux Mini-Computer. Ausgestattet mit einem leistungsstarken TI Sitara™ AM335x ARM Cortex™ Prozessor von 1GHz, HDMI-Schnittstelle, 10/100 Ethernet-Anschluss und einen Arbeitsspeicher von 512 MB on Board. Dank der vielen I/O´s und einer Rechenleistung für Echtzeit-Analysen ist BeagleBone Black ideal für die Automatisierungs- und Steuerungstechnik geeignet.
Arbeitsspeicher: 512 MB
Betriebsspannung: 5 V/DC
Kontroll-LEDs: Ja
Flash-Speicher: 2 GB
Gewicht: 40 g
Prozessor TI Sitara™ AM335x ARM Cortex™ 1GHz
Schnittstellen: USB, Micro-USB, UART, RJ45, microSD, HDMI, McASP0, SPI1, I²C, GPIO (65), LCD, GPMC, MMC1, MMC2, AIN (7), Timer (4), Serial Port (3), CAN, EHRPWM, XDMA Interrupt
Abm. (L x B) 86 mm x 53 mm
Grafikkarte: SGX530 3D, 20M Polygons/S
BETRIEBSSYSTEME:
Quelle: conrad.de
Hersteller: BeagleBoard